UNLOCK YOUR LEADERSHIP EXCELLENCE FROM THE INSIDE OUT
We coach and train leaders, across the globe, to tap into their innate resilience,
increase their personal impact, and positively transform their level of trust with their teams
Personal mastery is the foundation of all leadership that is truly resilient, inspiring, and transformational
As a leader, when you have high levels of personal mastery, you understand your own beautiful complexity, know how to revolutionise your mental game, and how to tap into your innate resilience.
This allows you to be your truest and best self (even in stressful situations), inspire confidence in others, and influence others to take the best action.
These are the types of leaders our world needs more of and we call them CORE Leaders.
WHAT SETS CORE LEADERS APART FROM THE REST?
The best leaders revolutionise their mental game by integrating 4 key attributes into their life and leadership
Passion is what drives us
Revolutionise your mental game with our tip of the week and tap into more of your innate resilience, increase your personal impact, and positively transform your leadership effectiveness
How Do You Become a Core Leader?
We care deeply about what we do so that you can focus on being the best leader you can be
The Chinese Philosopher, Lao Tzu, said, "There is nothing noble in being superior to your fellow man; true nobility is being superior to your former self."

Being a CORE Leader requires consistent devotion to your ongoing growth and development towards personal mastery. In addition to our coaching, training, and keynote solutions, we've got a number of resources to help you get going on that journey. See below and start developing your personal mastery today.
CORE LEADER SELF-ASSESSMENT
CORE Leaders have done, and continue to do, the hard work of mastering themselves
CORE Leaders have incredible influence and impact. They have done and continue to do the hard work of understanding and mastering themselves. They see the potential in everyone around them. They inspire and equip others to dream more, think more, believe more, learn more, do more, and become more than they ever thought possible. They're able to do that because they have learnt the secret of effective influence – it begins with oneself and not with others.
To find out how much of a CORE Leader you are, complete the self-assessment below.
listen to our latest podcasts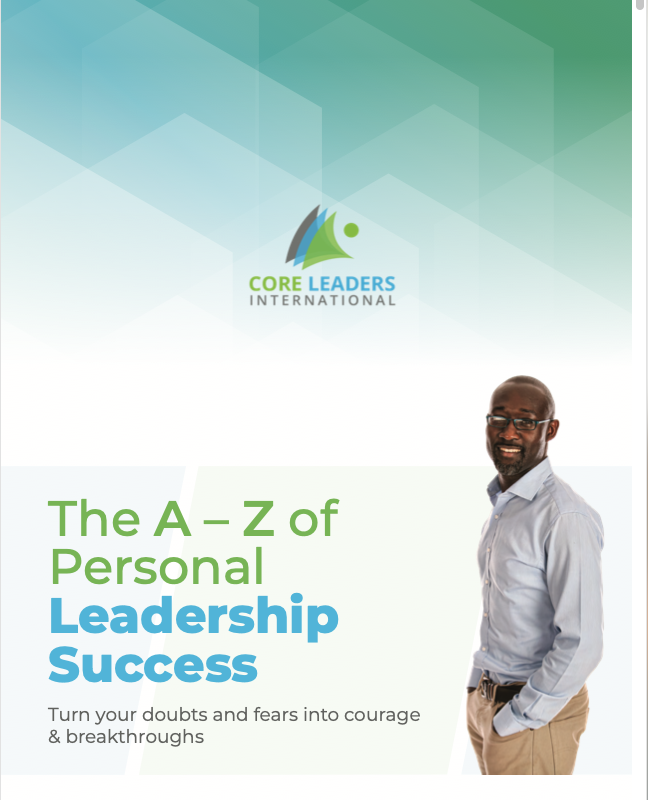 Start Developing Your Personal Mastery Now
Discover the A - Z of Personal Leadership Success
Personal Leadership enables us to live vibrant, fulfilling, and productive lives; it enables us to achieve successful careers; it enables us to build businesses that have a positive impact in our world. Most importantly, it enables us to overcome the fears, doubts, limiting beliefs, and bad habits that get in the way of us living our best lives as leaders.
Discover the 26 principles that will help you transform your leadership effectiveness today.
Begin your adventure to revolutionise your mental game and positively transform your leadership legacy!
We respond within 48 hours
We answer all email and requests as they come in. If you have an urgent matter or would like to place an order please click the link below to give us a call.